"I am a very shy girl, but today I danced in front of everybody."
When I was in middle school, you couldn't have forced me to dance in front of any crowd (more than three people) even if you offered me a lifetime supply of magical acne eraser. Transformations like that of the "shy girl" above were quite common. And I had thought that Malaysian students were just flat out shy; they sometimes just need to be thrown into a different environment.
On Monday, 17 of my fellow 47 remaining Fulbright English Teaching Assistants came to my school get water ballooned, transform into British Marshmallow Masters, and yell (cheers) at kids at what Malaysians call an English Camp. A typical English Camp here, from my limited experience, entails lectures, speaking opportunities for the group leader (usually a prefect who isn't the one needing practise), and a whole lotta Malay. So I tried to make mine a bit different.
These student evaluation quotations can illustrate what the camp really meant much better than I can:
"I become a English lover."
"This camp is really improve how to make friends easily."
"I am really more confident to communicate in English and make me don't fear dancing anymore!"
"Thank you for giving me the chance to be a leader for the dance."
"This camp was really meaningful."
"This programme has changed me from shy person to confident person."
"It was the extraordinary day for me."
[sic]
I owe much of the camp's success* to Summerbridge Hong Kong. At some point while serving as the Mentor Teacher in 2011, the co-director pointed out that the "Summerbridge magic" was not just a result of mentoring teachers insanely well and ensuring that each lesson plan integrated details like non-exam-based assessment. It was also a result of what I previously dismissed as superficial, inconveniences like decorations, props, and performances.
And so after weeks preparing a three-minute opening dance with the kids, hours on mail merged nametags for seamless transitions, multiple prep meetings for logistics and (more importantly) setting expectations, and an entire afternoon (unsuccessfully) convincing students that they don't need to use rulers to make decorations, we were ready. Ready not for an ETA camp, but for a camp organised by both ETAs and students.
The inputted work was disguised as a magic that was certainly present throughout the camp.
*The term "success" is thrown around much too loosely in the nonprofit world. A successful camp was quantifiably deemed per a
4.87/5.00 overall student evaluation camp rating, supplemented by other happy fluffy heart-wrenching anecdotes.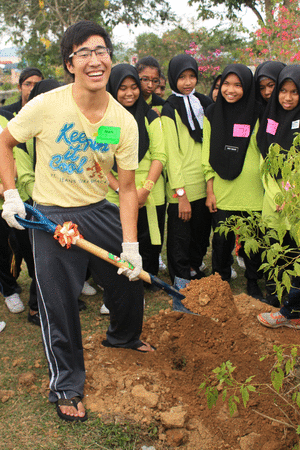 Aaaand here's Charlie working really hard at the camp: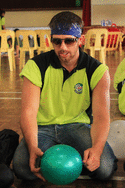 Relevant links:
For further details (and planning documents to reuse any materials), see the full report that I had to submit to my school that will probably never be opened.
Some poorly-written newspaper articles: